News
August, 2012
Dear Light readers and writers,
Three years ago, when John Mella asked whether I'd be interested in succeeding him as editor of Light, it was easy to say yes. I love this magazine. And I knew that if, one day, John and his loyal staff couldn't keep Light going, I'd want to do everything I could to build on what they started.
The transition has proven harder than any of us had hoped, of course. The loss of John last spring still hurts. Meanwhile, finances make it impossible to sustain the magazine in the form we're all familiar with. The good news, though, is that along with the rest of Light's new, volunteer crew, I'm determined to make sure light verse still has a dedicated home in this country. The best way for that to happen, we've realized, is to move the magazine online. We believe this will allow Light to attract more fans than ever before. Over time, we also hope the website will be a place to plan and promote light-verse events throughout the country.
For those of you who steer clear of the internet, or simply prefer reading poetry in print, there will be low-tech options whenever possible. Among our goals is to print occasional "best of" editions, for instance. Also, while online submissions will now be preferred, you can still mail your writing to us the old-fashioned way, if need be (but not to the old Chicago address—see below).
Right now, we are busy planning Light's new website. If you'd like to volunteer to work with us in some way, from technical help to proofreading to possible guest editing of future issues, please e-mail me at the address below and include LIGHT in the subject line. We aim to reopen for submissions within a couple of months, and to have our first online issue up and running by spring. For updates, including how to submit your poems, please join Light Quarterly's Facebook page, or check its original website at http://www.lightquarterly.org.
It's a real honor to be picking up where John left off. I'm immeasurably grateful to him, Lisa Markwart, Margarita Walters and Thomas Gorman, and to the many donors, directors, advisors and others who have served the magazine so well these past 20 years.
I hope all of you reading this will join me in working to create a Light that, while different from the original, will remain a beacon for years to come.
- Melissa Balmain
---

April, 2012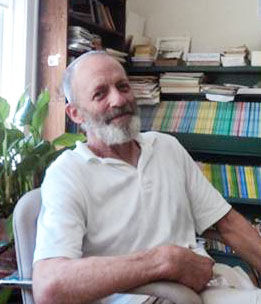 DEATH OF LIGHT VERSE EDITOR
JOHN MELLA AT 70
A sad note has sounded this spring in the musical world of light verse. The founding editor of the humorous verse journal Light Quarterly died April 16 at the age of seventy. For twenty years John Mella, a quirky, brilliant, prescient and uniquely inspired man, toiled almost singlehandedly to publish the only print magazine exclusively devoted to light verse. An accomplished writer himself, having published the luminous and philosophical meta-fiction novel Transformations in 1976, he had a genius for memorizing and reciting poetry, and could rattle off a 25-page poem flawlessly at the drop of a hat.

Although it has somewhat fewer publishing outlets than in previous generations, amusing poetry, both free-form and metrical, remains perennially popular among live audiences at readings and classic light verse writers like Dorothy Parker and Wendy Cope never go out of print. It is a genre visited by a host of well-known writers such John Updike, Richard Wilbur, Tom Disch, A. E. Stallings, among others. Says X. J. Kennedy, one of the master stylists of light verse: "..John Mella saved a whole genre of poetry that was wilting and drying up for lack of any outlet for it."

The next issue of Light Quarterly, which will be a memorial issue dedicated to the memory of John Mella and the legacy of light verse he leaves behind, is at the press now. It features some of his own work, and shows the breadth of his boundaries within the genre extended. He believed "light" verse could be applied to dark topics as well as frivolous, it could be about anything, even the death of a child, as he once remarked.

There was a tribute to John Mella at the West Chester Poetry Conference, at West Chester University in PA. On Saturday, June 9th, a panel of three, led by Melissa Balmain spoke about his life and the legacy of Light Quarterly.

The Foundation for Light Verse, the parent organization behind Light Quarterly, is determined to continue to publish the best light verse writers, not only X. J. Kennedy, but also Edmund Conti, J. Patrick Lewis, Charles Ghigna, Joyce LaMers, and many other new, emerging writers.

Philosophy

Angels dancing on a pin
Oft' entertained the thoughts of men.
Plato lectured Aristotle:
Count 'em first. Then, fetch a bottle."
---Phillip T. Egleston


The goals of The Foundation for Light Verse and its publication, Light Quarterly, are to bring clarity, wit, readability, and enjoyment in the reading of poems through the use of cadence, rhythm, and rhyme, and to promote the learning of such poems by heart.

Lisa Markwart
(Executive Director, Foundation for Light Verse) Light Quarterly
……………………

---
Wearable Light Quarterly
See here new items bearing the Light Quarterly logo and web address! Get them while they are hot!.
Show people that not only do you read, but you enjoy
Light Verse too!
---
~ Links of Note ~
Expansive Poetry & Music On-Line (& Somers Rocks Press)
New Pages: Includes links to items of interest to the book trade, as well as links to online journals and periodicals.
Poetry Daily: A new poem every day.
Bruce Berger: BRUCE BERGER is a former Featured Poet in LIGHT.
Able Muse: A Review of Poetry, Prose
& Art
Lighten Up Online – A quarterly, UK-based light verse webzine
Follow us on Twitter!