Read our current issue by clicking on the cover below.                   Read Light's poems of the week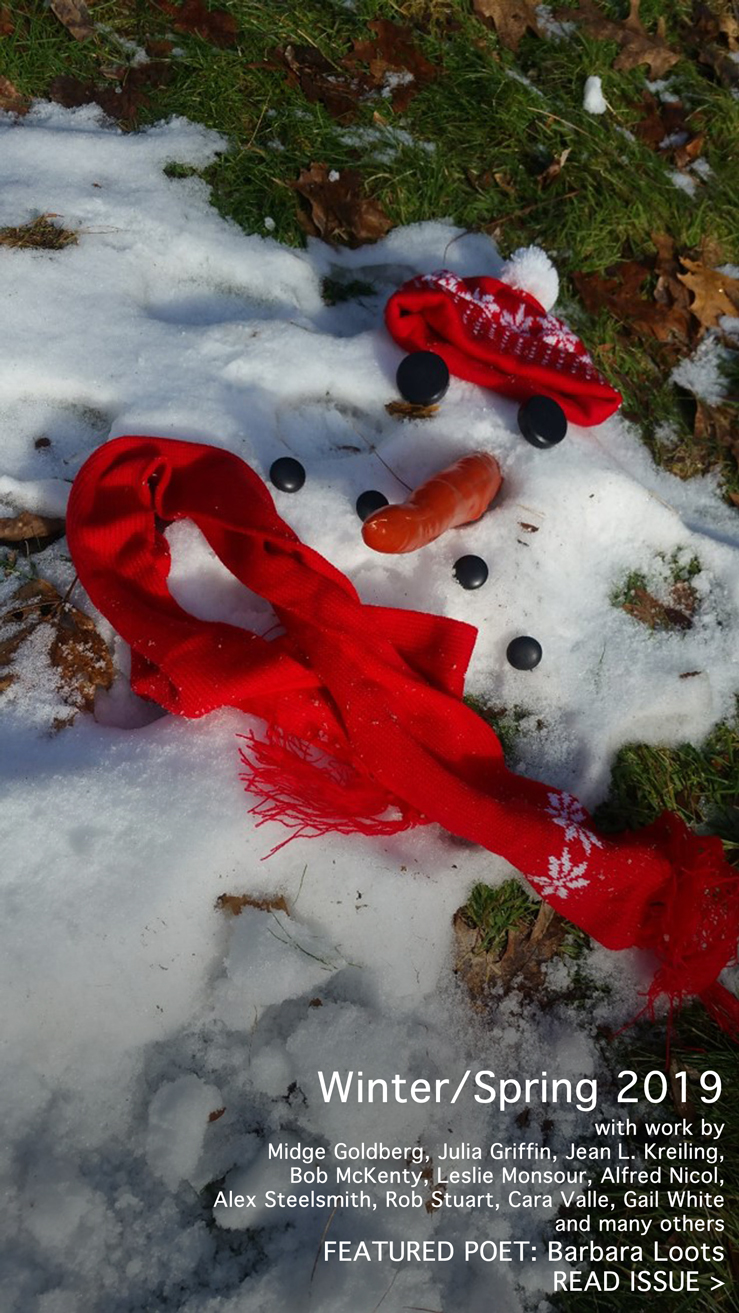 photo:
Karen C. Craft
by Nicole Caruso Garcia
Uneasy lies the head that wears a crown
While hosting dinner for the MAGA clown.
by Julia Griffin
This is no home for caravans:
This is the USA,
And so we've tightened up our bans
In hopes you'll go away.
You say you're fleeing tyranny
And military powers,
But this is not your home, you see?
It's crowded and it's ours.
These camps are growing every day,
As is what we are spending,
So extra things for which we pay
Will presently be ending.
Your juveniles will not, henceforth,
Get sports or education.
Please think of this when rolling north
To crash our private nation.
by Barbara Loots
"Jackson jail's screening policy on
underwire bras causes an uproar."
—Kansas City Star
Her underwires have caused a blip:
the lady lawyer has to strip.
What contraband might be holed up
suspiciously in that D-cup?
A shiv, a razor blade, a gun,
a six-pack, a forbidden phone?
A bra with such a sturdy frame
could hold a kilo of cocaine.
Attorneys wearing certain bras
are not exempted from the laws
preventing key and belt and shoe
and kitchen sink from passing through.
Never mind your background clearance.
There's no telling from appearance,
say officials, what's in there
besides your lacy underwear.
The hapless client's legal aid,
and justice, too, must be waylaid.
by Ruth S. Baker
"Wild bees from Argentina are building their homes from plastic"
—National Geographic
Some bees make homes in human eyes.
Some build with shards of plastic.
If these two groups should compromise,
Things might get rather drastic.
by Dan Campion
In the room the members come and go,
Impeachment, yes; impeachment, no,
To the last syllable of recorded time.
Then Time will clearly say it: "Crime."
by Nora Jay
"Led not into temptation: Pope approves changes to the Lord's Prayer
The pope said in 2017 he believed the wording should be altered. … 'It's Satan who leads us into temptation: that's his department.'"
—The Guardian
O let us not fall to temptation:
This upgrade deserves an ovation.
The Lord should not do
The leading into—
Except during Satan's vacation.
(For more witty poems, read our current issue or visit our Poems of the Week archive)