Read our current issue by clicking on the cover below.                   Read Light's poems of the week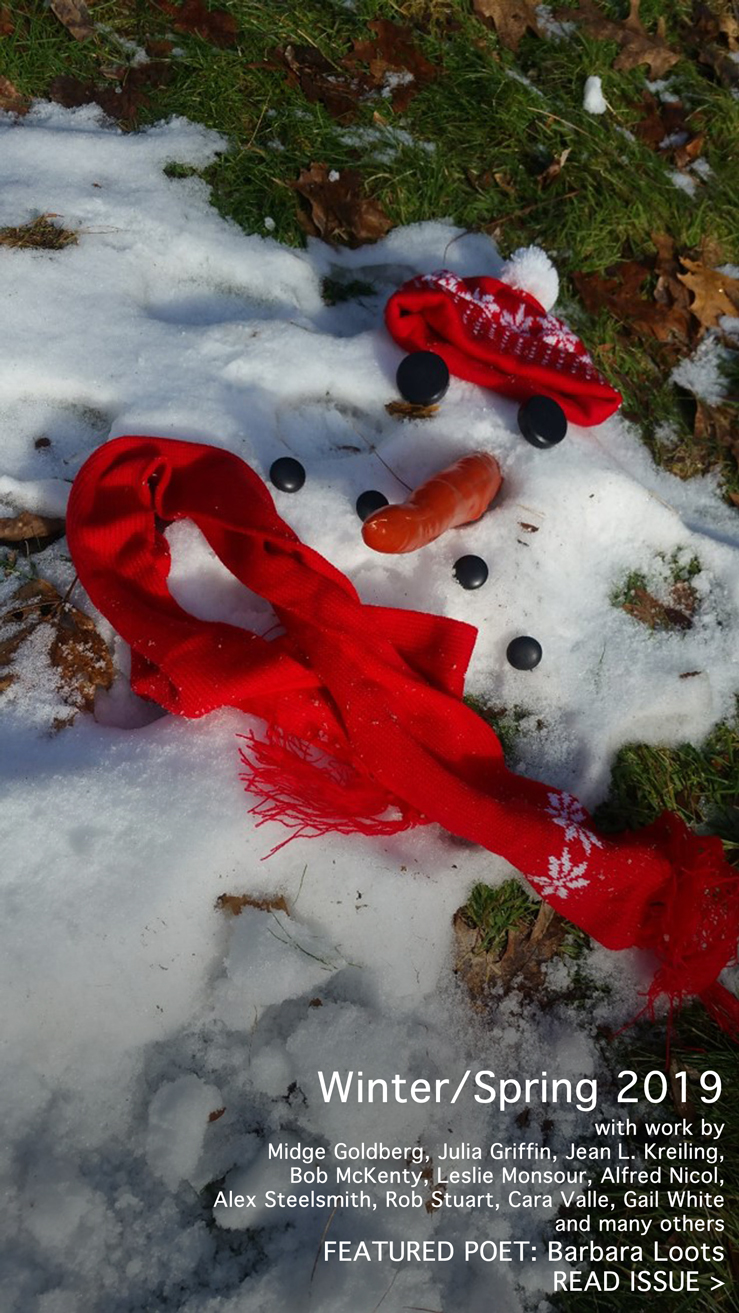 photo:
Karen C. Craft
by Julia Griffin
"In [Yoko Ono's] latest artwork, she is enlisting thousands of ordinary folk to ring in this year's Manchester international festival with Bells for Peace, a massive participatory artwork…"
— The Guardian
Perform your part for peace,
Ye ordinary folk!
Make pacificity increase
With every booming stroke!
As those irenic peals
Convulse the airy spheres,
See! Baffled War falls back and reels,
Her fingers in her ears.
Just let that peaceful din
Serenely blast the skies,
And you'll be guaranteed to win
The Ono Bell Peace Prize.
by Orel Protopopescu
"The alligator in the Humboldt Park lagoon has been dodging trappers for days…"
— ABC News
Who dumped poor "Chance the Snapper"
in Chicago's Humboldt Park?
This immigrant keeps hidden,
preferring shades of dark.
But if he's trapped by rat bait
or recordings of his kind,
where should he then be taken
to preserve his peace of mind?
He'd surely be much safer
in peaceful city parks
than in some Mar-a-Lago
where the pool is full of sharks.
by Chris O'Carroll
Freedom for trolls with their birther-style lies,
For loud anti-science conspiracy guys,
For tweetstorms that help keep America great
By telling God's patriots who they should hate,
For Joy speaking out in her stars-and-stripes dress,
But not for that anti-Trump hit squad, the press.
by Marshall Cobb
"Bear breaks into car, butt-shifts vehicle and drives downhill."
— KMGH, Boulder County, CO
Remember that old question
That's puzzled man for years?
With claims on either side,
We've argued over beers.
This daring bear in Boulder
Has given us the goods;
At last, we've solved the riddle,
"Does a bear shift in the woods?"
by Jerome Betts
"Boris Johnson has already won" the Tory leadership contest.
— The ConservativeHome website
If the buffoon's balloon really flies
With results at once comic and sinister,
Blessed by Trump of the ten thousand lies,
Should his title be changed? Sub-Prime Minister?
by Dan Campion
Whoever leaked Sir Kim Darroch's comments on Donald Trump should be "run down, caught and eviscerated." — Boris Johnson
Sir Kim Darroch is out, poor sod.
Such mundane fates befall us.
But, Boris! Here's an angry god
Who craves his William Wallace.
by Julia Griffin
"In an extraordinary letter, [Marc Veyrat, chef of La Maison des Bois] railed against his demotion [by Michelin Guide inspectors] … . 'I have been depressed for six months. How dare you take the health of your chefs hostage? … [The inspectors] dared to say that we put cheddar in our soufflé of reblochon, beaufort and tomme! They have insulted our region; my employees were furious. When we have eggs from our chickens, milk from our cows, and two botanists collect our plants every morning!'

Eating at La Maison des Bois … is described on Veyrat's website as 'a veritable pastoral and
mineral symphony in which nature's bounty is displayed in each and every dish.'"
— The Guardian
They dared to say there's cheddar in our soufflé!
Our soufflé, coaxed from tomme and reblochon
On which, for sheer douceur, the fragrant hoof lay
Of one whose coat I've personally shone!
The miserable frauds detected cheddar!
And yet they flaunt themselves as critics still!
They hoped to put my feelings through a shredder:
Are they content that I'm depressed and ill,
And all this region wounded and offended
By imbeciles deserving to be sued?
My restaurant should not have condescended
To offer such a symphony of food,
Such hymns to Nature, bountiful and tuneful—
Like prawns in pine sap, served on bits of shed—
To those more aptly serviced with a spoonful
Of fat-free processed mild Velveeta spread.
(For more witty poems, read our current issue or visit our Poems of the Week archive)