Read our current issue by clicking on the cover below.                   Read Light's poems of the week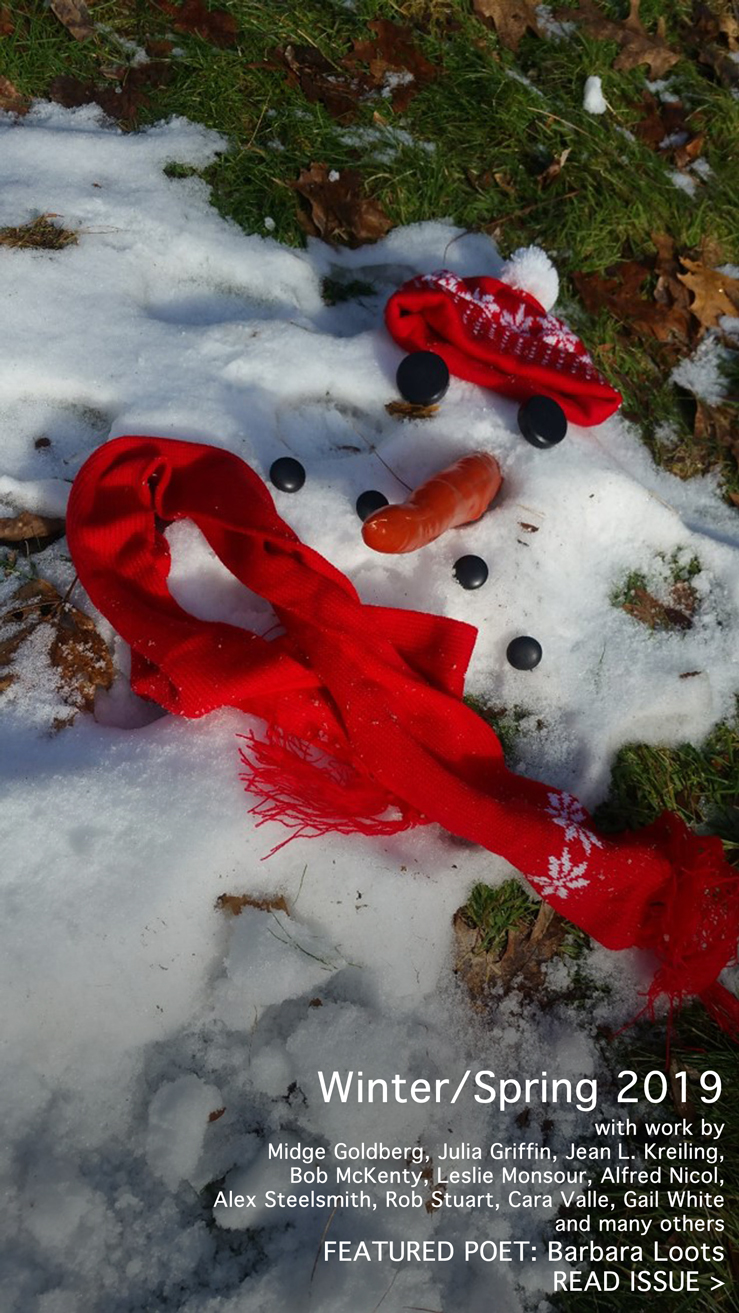 photo:
Karen C. Craft
by Julia Griffin
"The first trailer for 'Frozen 2' is here…"—fastcompany.com
Finally! The Frozen teaser—
Let's denote it just The Freezer—
Lights the screen, deprived so long
Of the femininely strong.
Six whole years now, wigs and crowns,
Books and copyrighted gowns
Have but swelled that thirst for chill
None but Elsa could fulfill;
Now a wave of Disney's wand
Sweeps her back, the shining blonde,
Tiny-waisted, giant-eyed:
Two parts insect, one part bride.
Also destined for reuse
Are the Redhead, Boyfriend, Moose,
Snowman (made a household star
By his bath toy avatar),
Ice and snow and snow and ice;
But this arctic paradise
Centers round its frost-princess,
Sister, savior, whose success
Thrills transgressive types worldwide,
Charms romantics, and beside
Proves, as human flesh cannot:
Cold, cold girls are hot, hot, hot.
by Jerome Betts
"Speaking in the Rose Garden, Trump said there was
an emergency at the border which could only 
be fixed by building a wall."—The Guardian
Amid mounting strife over walls, fences, barriers,
And the sound of the parties' rhetorical arias,
There's a question to ask, as a matter of urgency−
Is the POTUS himself not a national emergency?
by Brendan Beary
It might just be valid for ninety-some days,
Though few will attain such longevity;
Some come for a moment, and some not at all—
They're typically known for their brevity.
But maybe, just maybe, your roll of the dice
Surpasses your farthest-out fantasy:
A ninety-day jaunt goes for fifteen more years,
Revealing much more than you'd planned to see.
So play Billie Holiday; let's serenade
The space exploration community,
And marvel at all that allowed them to make
The most of their one Opportunity.
by Ruth S. Baker

" … concern is mounting about the growing scarcity of many exotic elements that have become utterly critical to the workings of our modern world. … Helium, for example is considered to be under serious threat in the next 100 years."—The Guardian
Accept our sympathy, but please
(Although we'd not dismantle 'em)
We've many more endangerees
Than helium and tantalum;
And something with a tail and snout
(Let this be my exordium)
Is much more fun to care about
Than ruddy rutherfordium.
by Phil Huffy
No hounds need apply
for a White House gig,
the President has stated.
He's much too involved
with important things
for matters dog related.
But in point of fact
one would have to guess
that any intelligent cur
if offered even part time work
would cautiously demur.
by Michael Calvert
"Officials at Samford University, a Christian college in Alabama, allegedly told an all-female group partaking in a dancing competition to "bind their breasts" … [and] use Ace bandages or wear multiple bras so 'nothing moves' while they competed."—The Daily Beast
Now girls, put on your funky grooves,
But just see to it nothing moves.
We're asking every dancing beauty,
Shake nothing, least of all your booty.
Although we know you long to be
True daughters of Terpsichore,
Each time we see a bosom sway,
We fear there will be hell to pay.
So keep it clean, avoiding wiggles,
Waggles, jounces, jumps or jiggles—
No dance gives us a bigger thrill
Than one that keeps you standing still.
(For more witty poems, read our current issue or visit our Poems of the Week archive)