Read our current issue by clicking on the cover below.                   Read Light's poems of the week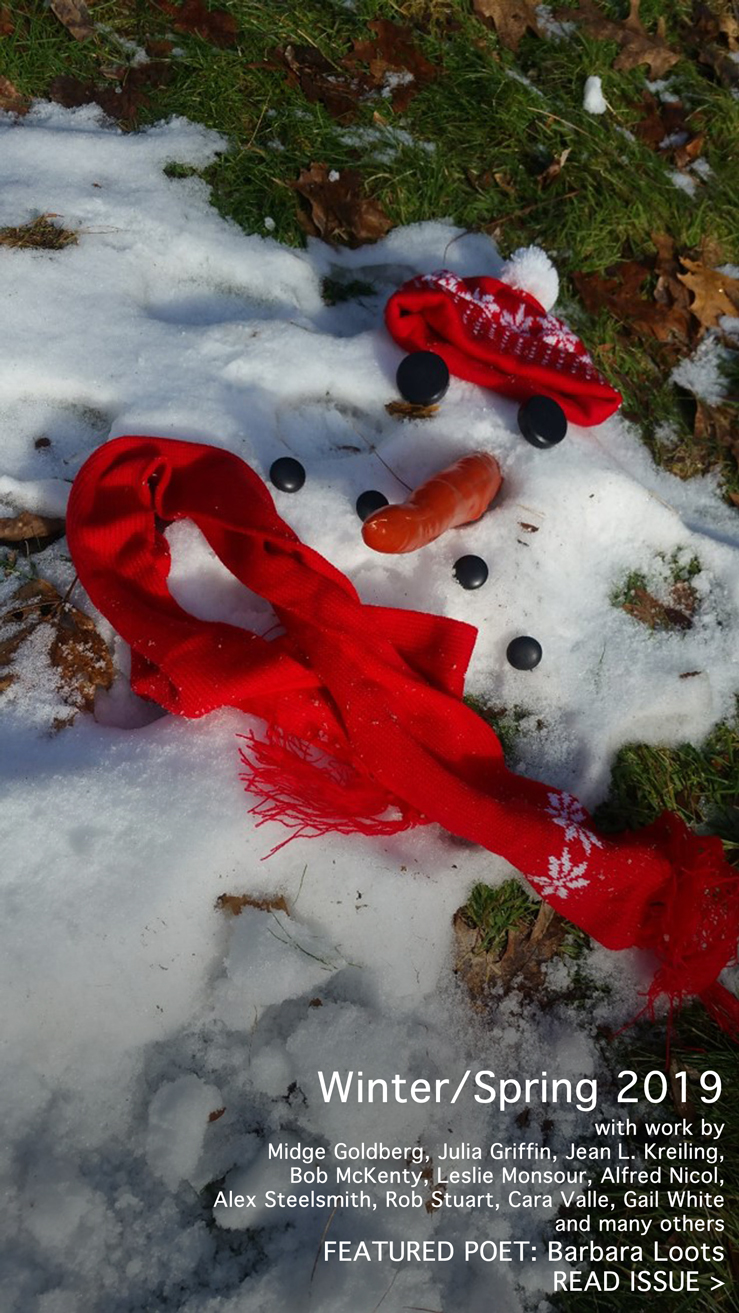 photo:
Karen C. Craft
by Julia Griffin

"As the appointed hour to end the meeting came and went, May was left kicking her heels as EU27 leaders sought to find a compromise, over a dinner of green lentils and langoustine terrine, roast duckling à l'orange and a desert [sic] of chocolate variations."—The Guardian
Deserted by the proud UK,
The broken ring of nations
Now take their solitary way
Through Chocolate Variations.
O what a long and lonely trudge
Confronts them, stalled and slowed:
Plain Bitter Dark, and Nutty Fudge,
And endless Rocky Road.
by Jerome Betts
"UK's top toilet roll suppliers stockpiling
in case of no-deal Brexit"—The Guardian
The US is, it seems today,
Awash with tweeted Trumpf,
But Britain, Brexit-racked by May,
Just fills the shelves with bumf.
by Bruce McGuffin
"Two Stanford students filed a class action Wednesday in Federal court … [They] allege that, in light of the admission of students who paid bribes to secure their slots, the universities are liable under California state law for false representations about the fairness and reliability of their admissions processes…"—Reuters
Some colleges turn out to have a side door
to go through if you pay a coach a fee.
So angry Stanford students brought a lawsuit.
Those poor kids could have gone to USC.
by James Hamby
He summoned all his courage,
Forced down his rising dread—
It takes a very special man
To talk smack of the dead.
But Trump remained undaunted
And meant each word he'd said—
He didn't give a second thought
About insulting the dead.
He feared no specter rising,
No revenant's empty bed,
Nor even a zombie apocalypse—
No rising of the dead.
All hail our fearless chief,
Our nation's valiant head!
Although he quails before the truth
He doesn't fear the dead!
by Julia Griffin
Chuddies – Indian word for underpants
Jibbons – Welsh word for spring onions
Fantoosh – Scottish word for fancy
Sitooterie – Scottish word for a place to sit out
Bigsie – Scottish word for pretentious
Dof – Afrikaans word for foolish
—From the newly updated Oxford English Dictionary
I stopped for a bite of charcuterie
Inside a fantoosh new sitooterie:
They'd slivered their jibbons
As finely as ribbons—
It wasn't some sort of a Hooterie.
I hoped to encounter some buddies;
The guests, though, were such fuddy-duddies,
So bigsie and dof
That they frowned and backed off—
And me in my shiny new chuddies.
by Ruth S. Baker
"'Flintstone' house sparks lawsuit from California town: 'It's an eyesore'"
—thaivisa.com
Eyesore, it's an eyesore,
It's the grossest house in human sight!
From the town of Bedrock,
It's usurped the home of Frank Lloyd Wright.
Just look, it's that prehistoric gang
Put there courtesy of Florence Fang!
Yikes, it's Casa Fangstone:
It's a yabba dabba duplex blight!
by Dan Campion
"Works of art are just objects, like a refrigerator or a vacuum cleaner."
—Daniel McDermon in The New York Times
Why deal in similes? Some works
Are fridges and shop vacs,
Since artists have discovered perks
In dogging Duchamp's tracks.
Though bourgeois jaws may still go slack,
Chic gallerists and clients
Reward those artists with the knack
Of selling an appliance.
by Jerome Betts
(With apologies to Sir John Betjeman)
" . . . Eton College. This institution sits
at the heart of the Brexit mess and the
dismal political failings that led to it."
—John Harris in The Guardian
Come, legislators, fall on Eton!
Bared buttocks now may pass unbeaten
But still you put a rich elite on
The path to power.
One day, damned relic by the river,
Old unrepentant privilege-giver,
We'll hear the timbers crack and shiver,
Your final hour.
You're loved by no-deal Brexit-brinkers,
Ex-mayors, mendacious pen-and-inkers,
Rees-Moggs, and rolling-in-it stinkers
With funds off-shore.
So, drop your fees, they're quite offensive,
Sell off your fields (far too extensive),
Rename yourself Slough Comprehensive
Or face the law!
(For more witty poems, read our current issue or visit our Poems of the Week archive)