Read our current issue by clicking on the cover below.                   Read Light's poems of the week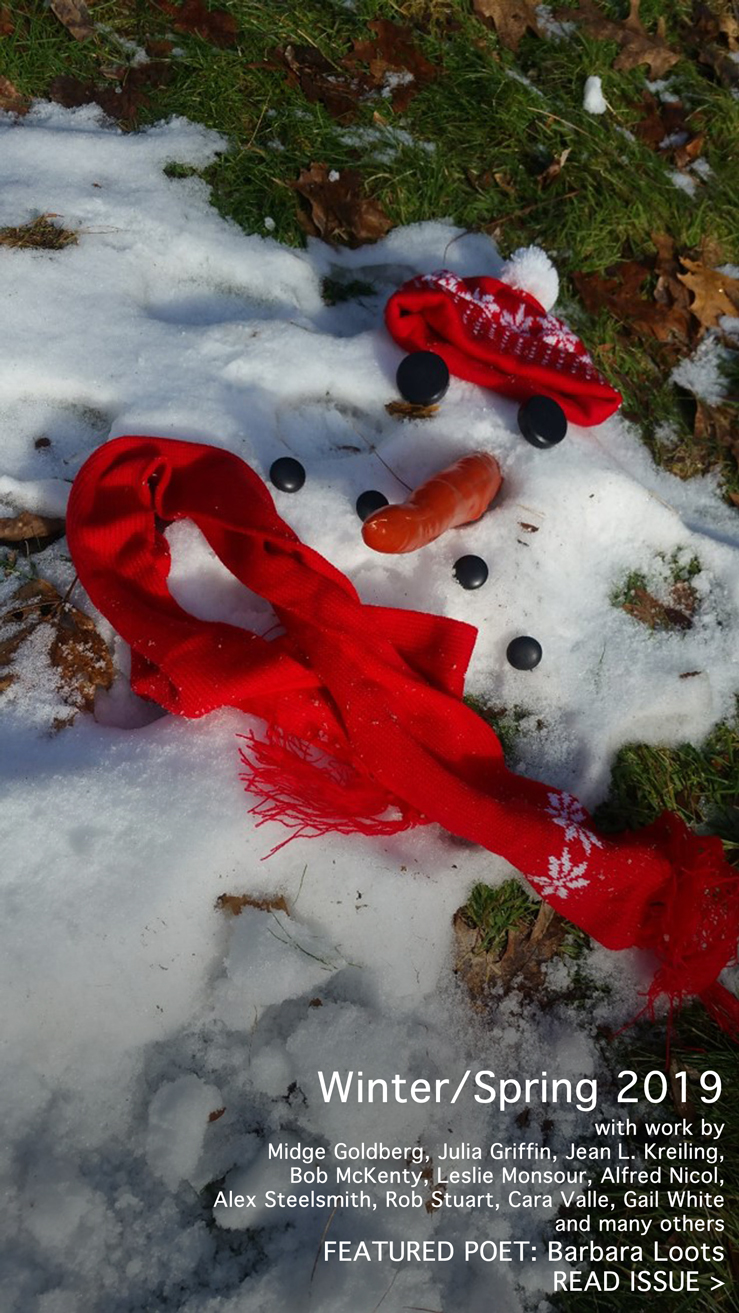 photo:
Karen C. Craft
by Dan Campion
"I quickly referred to Tim + Apple as Tim/Apple as an easy way to save time & words."
—Presidential tweet
Tim Apple speeds with Gwyneth Goop
On Elon Tesla's hyperloop,
While Mary General Motors texts
With Sundar Google, who elects
To share with Ginni IBM
The mega-corporate apothegm:
"Though never quiet flows the Don,
Trump can't outswim Jeff Amazon."
by Julia Griffin
"'I hear it in my sleep': CVS to update hold music that 'haunted' psychiatrist …
'CVS hold music stimulates the almond-shaped amygdala that sits in our reptilian brains,' he wrote, 'and that's not good.'"—The Guardian
"That strain again!" he cries in pain,
"I'd nuke it if I could;
It sits in my reptilian brain,
And that's not good."
Oh that's not good, no that's not good,
It could not well be less;
It hurts your mental hardihood:
Blame CVS.
"Now, I am a psychiatrist:
My mind is iron-clad;
I don't go lightly round the twist;
But this is bad."
Oh this is bad, yes this is bad;
For all its shapeliness,
The poor amygdala's half mad;
Blame CVS.
"I've been on hold, all told, for years;
My hand has turned to wood;
I've started carving off my ears;
And that's not good."
Oh that's not good, and this is bad,
And though I must confess
You really could hang up, I'll add:
Blame CVS.
by Bruce Bennett
It's merely a glitch. Do not worry.
Just take out your card in a hurry.
And though it seems strange,
Don't bother with change,
Because — well — it might come out furry.
by Julia Griffin
"Musher loses huge lead in Alaska's Iditarod Race after dogs go on strike:
Nicolas Petit says dogs stopped after he shouted at them"
—The Guardian
O have you heard tell of a musher named Nick,
Who traveled the ice with his sled and his pick,
And sixteen brave huskies, a regular squad:
And all for the prize in the Iditarod?
They set out from Anchorage early in March:
The sled was heaped high with tarpaulins and starch,
The dogs were in harness and sturdily shod,
Intent on success in the Iditarod.
They sledded through Willow, their spirits were high,
The tundra and spruces were sweet to the eye;
Brave Nick offered praise to the dogs as they trod:
O how could they fail in the Iditarod!
Now Rohn was behind them and also McGrath,
When Nick felt inside him the stirrings of wrath:
Two huskies were snarling. "This isn't so odd,"
Thought he, "with the strains of the Iditarod";
But three blizzards on, by the cold Bering Sea,
He turned on the two with a curseword or three.
Then snorted the pack: "Does he think he is God?
Let him take the pull for the Iditarod!"
And down on their haunches they parked in the snow.
Not one further step could he coax them to go;
So home again sadly Nick knew he must plod,
So close to his goal in the Iditarod.
And this is the story of Nick-out-of-time,
Defeated by dogs in a difficult clime;
Let's hope they'll forgive him and give him the nod
To come back next year for the Iditarod.
(For more witty poems, read our current issue or visit our Poems of the Week archive)