Read our current issue by clicking on the cover below.                   Read Light's poems of the week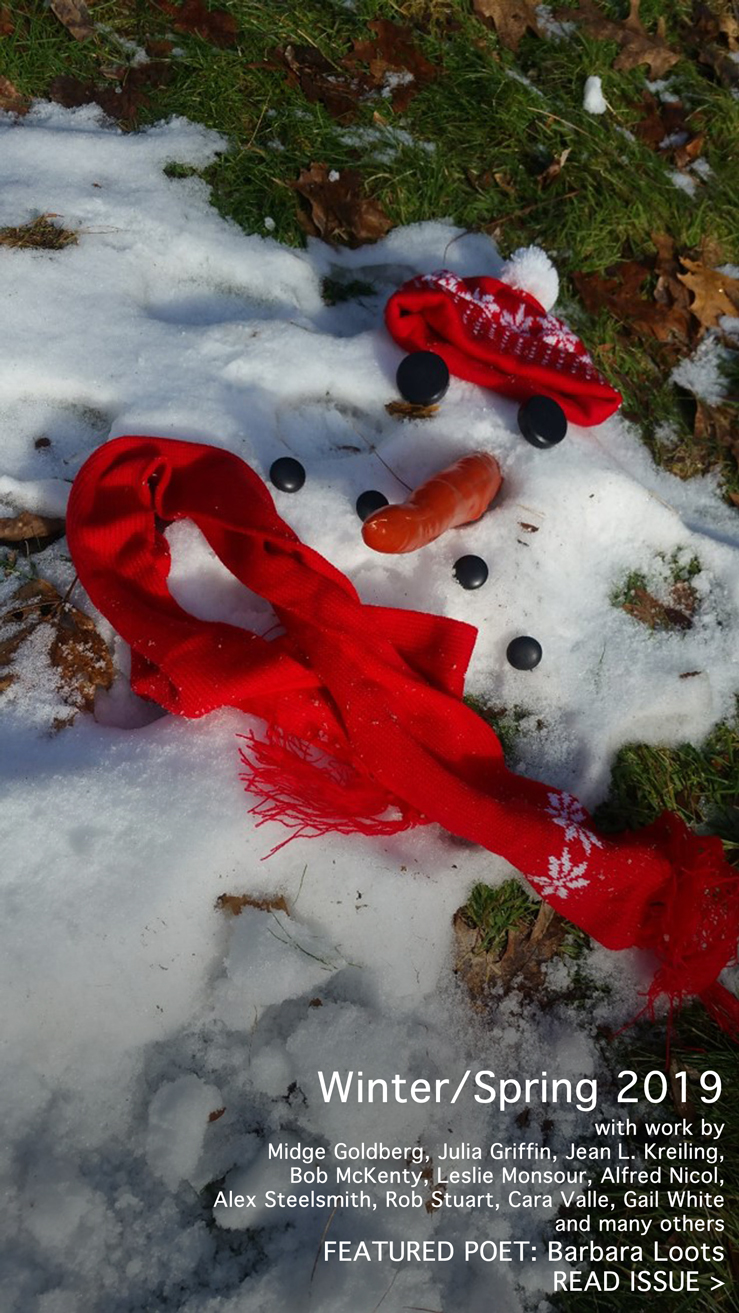 photo:
Karen C. Craft
by Brendan Beary
"Coffee beans not vital for human survival, Switzerland decides"
—The Guardian
Though Switzerland's a lovely place,
The Swiss are a barbaric race;
Just like their cheese, they've got big holes
Inhabiting their hearts and souls.
For Switzerland has now decreed
That coffee's not a thing they need.
Where once they hoarded vast reserves,
They said they'd stop—and Oh, my nerves!
A model of efficiency
And clocklike punctuality—
Let's see how long all that'll last
When they have been de-demitassed!
Their downfall will be swift and total;
They'll barely have the strength to yodel!
Too late, I fear, they'll live and learn.
Too bad, Dummkopfen—let it Bern.
by Dan Campion
A black hole's image has been caught,
The jet-black headlines say,
But what escapes a black hole? Naught.
So what's up on display?
by Julia Griffin
"Doctors discover four live bees feeding on tears inside woman's eye"
—The Guardian
Peerless insects! How have ye
Merited so blest to be?
You have broach'd those starry spheres
Whence descend my lady's tears:
There you lodge and proudly feed
On this world's divinest mead.
O had she once rubb'd that lid!
You had died where you were hid;
Happy your escape: though I
Gladly there would choose to die.
by Robert Schechter
"I don't envy the editors about to get an onslaught of . . . bees in eyes living on tears poems."
—A.E. Stallings on Twitter
There's a bee in my eye.
It makes me good money.
I bottle my teardrops
and sell them as honey.
There's a bee in my eye.
My troubles are many.
My retina's tickled
by twitching antennae.
There's a bee in my eye.
There may be a dozen.
And that explains why
my cornea's buzzin'.
There's a bee in my eye.
If I had a scruple
I'd have them evict
the bee from my pupil.
There's a bee in my eye,
and I say, "Doggone it!
This bee in my eye
is a bee in my bonnet!"
by Charlie Boyes
"One by one, the leaders of seven of the country's largest banks told skeptical House Democrats on Wednesday that a decade after the global financial crisis, the industry is financially healthier and less risky."—The Washington Post
Austere, banks collateralize debt ere
financial gurus hazard
immiseration. Jubilance keenly leveraged.
Money naturalizes. Oligarchs
profit, queue reserves.
Secure tranches.
Use values want. Xaipe.
Yen, zen.
by Bruce Bennett
The sidewalks fill with stranded worms
inveigled out by rain.
I cannot watch poor creatures die.
It's rescue time again!
Yet I must watch how I proceed,
disguising my display
of care through surreptitious means,
lest I be put away.
by Julia Griffin
"Is Stephen Miller in charge?"—CNN
How do we judge between Mueller and Miller?
Miller is shriller and looks like a killer;
After the hopes, though, excited by Mueller,
Some are reporting that Mueller is crueller.
by Nora Jay
"Kirstjen Nielsen resigns as Trump homeland security secretary"
—The Guardian
We thought she was earning her wages:
Promoting the President's views,
Disputing that kids were in cages
Despite what we saw on the news—
But Trump thought her bullying toothless,
And brushed her from office like fluff.
Take note: if you mean to be ruthless,
Make sure you are ruthless enough.
by Jerome Betts
If his chimes could once more ring
Might Big Ben boom out this spring,
"Brexit, Brexit, fume and fuss,
Has the UK missed the bus?"?
Umbrage, dudgeon, fits of ire,
Catcalls, verbal sniper fire
Stopped by chamber's sudden leak … er …
More arresting than the Speaker!
Ask the hacks on College Green,
Will it end by Halloween?
Will May make it into May
As there's yet a third delay?
Will the Tories come to grief
Over choosing a new chief
And, with MPs on vacation,
Who'll step in to save the nation?
by Bruce McGuffin
In Spring to welcome back the sun
We have a little Easter fun:
Dye eggs; eat candy; rot our teeth;
Take down that old brown Christmas wreath.
(For more witty poems, read our current issue or visit our Poems of the Week archive)